Things to do in Denver: Union Station
Enjoy the Vibrant Atmosphere at Denver's Union Station
With restaurants, shops, outdoor space, a Grand Hall, and a luxurious hotel, Denver's Union Station is more than just a train depot. Transformed into a central transit and entertainment hub in 2014, the station attracts Denverites and out-of-town guests.
Visitors to Union Station will keep busy with everything there is to do and see. If the amenities aren't enough, Union Station puts on regular events year-round, including the weekly Farmer's Market, a holiday lights display, and New Year's Eve Dinner. Guests can also book the station for private events. What makes a better backdrop than one of Denver's most beloved historical landmarks?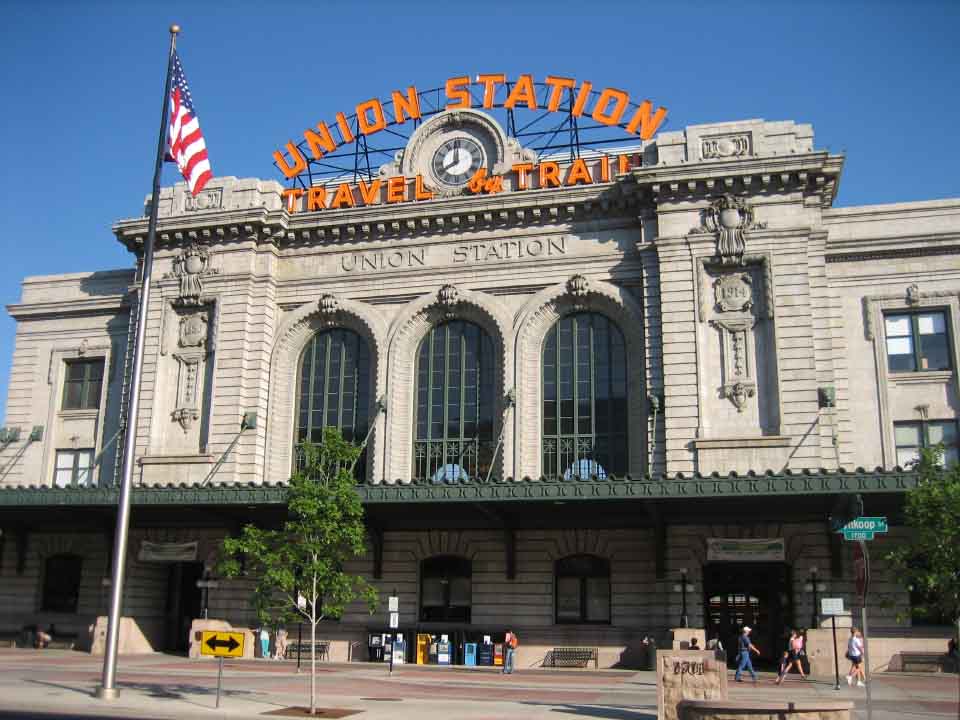 A Historical Landmark in the Heart of Denver
Denver's first Union Station was opened on the same site in 1881, but it burned down in 1894. The current structure was rebuilt and opened again in 1914. At the time, four major lines ran through Denver's Union Station, bringing famous visitors to the city like President Theodore Roosevelt and Queen Marie of Romania.
Traffic through the depot declined around the mid-twentieth century, outstripped by airport travel. From the 1980s onward, the city underwent efforts to centralize transportation through Union Station. One hundred years after the building's opening, Denver Union Station unveiled its renovations, in 2014. The building would once again serve as a transit hub in the heart of Denver, connecting Amtrak, and the RTD metro, bus, and light rail. The station also added space for lodging, dining, and retail shops.
Dining, Shopping, and Lodging – All in One Place
Denver Union Station is billed as "Denver's Living Room" and it's easy to see why! As a gathering space for residents and tourists, the Great Hall is the perfect place to kick back and relax. The many restaurants and shops also make any stay at Union Station enjoyable – whether it's for a few hours or a few days.
A delicatessen, pizzeria, ice creamery, coffee shop, bar, and lounge are just some of the dining options available at Union Station. The eateries and shops make the depot more than a place for travelers to pass through. And the connected RTD network makes Union Station easy to get to. The Crawford Hotel also offers 112 rooms inside the station, so visitors to Denver will have all the amenities they need for a perfect vacation, all in one place.
Explore Denver's Union Station
Since its grand reopening in 2014, Union Station has become a popular spot for residents. It's the perfect place to grab a book and a coffee, to sit outside enjoying the pulse of downtown Denver. It's also ideal for visitors to Denver, who want to be in the middle of an eclectic atmosphere. Union Station has everything you could want from a pleasurable day out in the city or a vacation to Denver. Union Station has easily become a new favorite.