Things to do in Denver: Elitch Gardens Theme & Water Park
A local treasure located in the heart of downtown Denver, Elitch Gardens Theme Park is a favorite amongst Denver residents. Kids and adults can have a blast with everything there is to do and see at Elitch, with a full amusement park and the Island Kingdom Family Water Park.
Elitch Gardens has attractions for everyone to enjoy. Thrill rides, family rides, water rides, and a dedicated Kiddieland all have various height and weight requirements, so nobody will miss out on the fun. Catch amazing views of downtown on the 100-foot tall Big Wheel, go for a thrilling ride on the seven-story high Brain Drain coaster, or take a splash at Shipwreck Falls.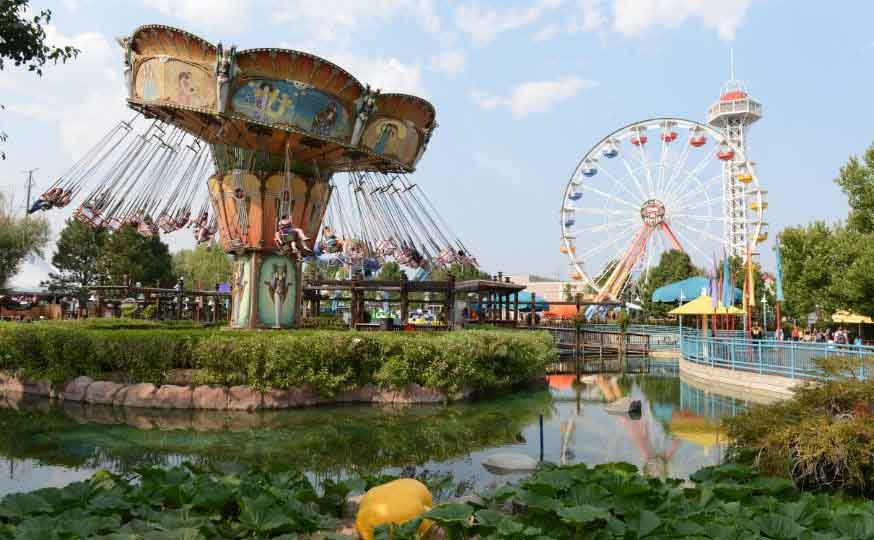 Families can pack in a ton of fun at Island Kingdom as well. When you buy a ticket to the amusement park, you get free admission to the water park! Island Kingdom, first opened in 1997, is home to Colorado's first-ever water coaster. Hop aboard the Splashdown and catch incredible views of the city, from America's Only Downtown Theme and Water Park.
Special Events and Entertainment
To add to the fun, Elitch Gardens hosts special events and programs throughout the season. The Free Summer Concert Series kicks off every year at the Elitch Arena. Every Friday night in July and August, families can watch a film and go for a swim at dive-in movies. The summer season at Elitch also means fireworks! Check the park's schedule to see when they're putting on fireworks displays.
Elitch Gardens is also full of shops, restaurants, and arcades to keep you busy. If you're not going on one of the exciting rides, you can stock up on souvenirs, eat the best theme park food around, or win fabulous prizes at the arcade.
Elitch Gardens is Perfect for Groups
What's better for a group outing than a theme park? Tons of rides, tons of dining options, and tons of fun await large parties heading to Elitch. The staff will happily oblige kid's birthday parties, company picnics, or family reunions. Imagine a better day with relatives from out of town than a trip to Elitch, right in downtown Denver. The park also offers discounts on group tickets.
Elitch Gardens also hosts special events for students. The Educational Days in May include programs like the Championship Coaster Contest, Science Day, Art Day, and a Physics Day sponsored by the University of Denver's Department of Physics and Anatomy. There are also special Day Camps for kids ages 2-12 throughout the summer season.
Elitch Gardens – A Local Favorite
There's no place quite as beloved by Denverites at Elitch Gardens. With a long history almost as old as the city itself, the park has been a fixture of Denver since 1890. The park has evolved through the years, undergoing changes in ownership, renovations, and even a move to a new location. Throughout every stage, though, Elitch remains a favorite among Denver residents.